About Us
Founded in 1998 as a partner company, Anderil specializes on steel fence posts of various types and standards with a total solution to the steel fence system. Initially, fence posts of American standard, Australia standard and Euro standard; picket steel fence, chain link fence, galvanized steel fence, green coated steel fence, temporary fences and security fences. For a wide range of fencing uses for the airports, railway, playground, construction sites, perimeters, swimming pools and other uses.
Products Show
Galvanized Steel Fence
Hot-dipped Fence Panels are far superior to pre-galvanized mesh fencing. Hot-dipped mesh panels are welded first and then galvanized providing a thick zinc coating over all welds, giving you over 3 times the protection of pre-galvanized rod. Pre-galvanized panels are welded after galvanizing and rust at welds because they are unprotected. Available in a wide range of sizes for various applications.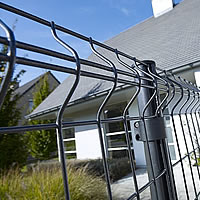 | | |
| --- | --- |
| WIRE DIAMETER | MESH |
| 3-6mm | 50mm x 50mm |
| 3-6mm | 10mm x 10mm |
| 3-6mm | 75mm x 150mm |
| 3-6mm | 60mm x 150mm |
| 3-6mm | 65mm x 150mm |
| 3-6mm | 65mm x 195mm |
| 3-6mm | 60mm x 60mm |
| 3-6mm | 80mm x 60mm |
| 3-6mm | 5mm x 10mm |
| 3-6mm | 5mm x 15mm |
| 3-6mm | 10mm x 15mm |