About Us
Founded in 1998 as a partner company, Anderil specializes on steel fence posts of various types and standards with a total solution to the steel fence system. Initially, fence posts of American standard, Australia standard and Euro standard; picket steel fence, chain link fence, galvanized steel fence, green coated steel fence, temporary fences and security fences. For a wide range of fencing uses for the airports, railway, playground, construction sites, perimeters, swimming pools and other uses.
Products Show
Security Steel Fence
Post:
This system usually chooses Rectangular Post, with the high strength and so on. With plastic caps or Roofing rainhat.The finished surface usually is galvanized and Powder coating, or alternatively.
Fastenings:
The panels and posts are jointed together with bolts or rivets, using the steel flat bar, or special steel clamps. All nuts are self-locking. This also can be designed as the special clients requests. Usually, there is the Razor wire system on the top of the fence line.
Barbed wire:
Wire Materials: Galvanized steel wire, PVC coated iron wire in blue, green, yellow and other colors.
General Use: Barbed wire mainly serves in protecting of grass boundary, railway, highway, etc.
Barbed Wire Specification:
Type

Wire Gauge (SWG)

Barb Distance (cm)

Barb Length (cm)

Electro galvanized Barbed Wire; Hot-dip zinc plating barbed wire

10# x 12#

7.5-15

1.5-3

12# x 12#

12# x 14#

14# x 14#

14# x 16#

16# x 16#

16# x 18#

PVC coated barbed wire; PE barbed wire

before coating

after coating

7.5-15

1.5-3

1.0mm-3.5mm

1.4mm-4.0mm

BWG11#-20#

BWG8#-17#

SWG11#-20#

SWG8#-17#

 

PVC PE coating thickness: 0.4mm-0.6mm; different colors or length are available at customers request.

 

 
Characteristic:
Security fencing products have the features of corrosion resistance, aging resistance, sunlight resistance and weather resistance. The forms of corrosion resistance for security fencing include electro galvanizing, hot-dipped galvanizing, PVC coating or spraying.
We can accept special specification according to clients, the specification and the pictures only for reference; it can be done according to the requests of the customers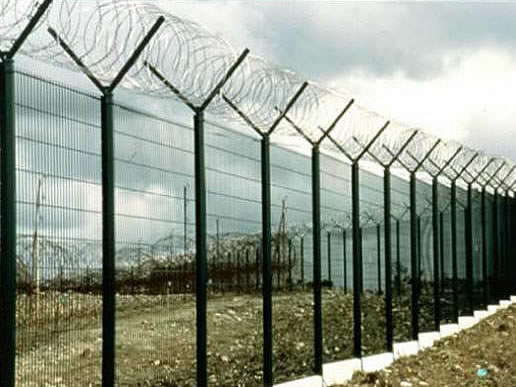 Security Fencing is made of different materials in a variety of specifications.
Fence Height
cm
Fence Length(2m)
Fence Length(2.5m)
Wire Gauge
Wire Diameter
mm
Opening
cm
Weight kg/piece
Fixing Pole
Wire Gauge
Wire Diameter mm
>Opening cm
Weight kg/piece
Fixing Pole
Weight kg/set
Weight kg/set

60

10#/8# >

3.2 4

5X12

6.5

1.9

10#/8#

3.2 4

5X12

8.6

1.9

80

10#/8#

3.2 4

5X12

7.5

2.3

10#/8#

3.2 4

5X12

9.9

2.3

100

10#/8#

3.2 4

5X12

8.5

2.7

10#/8#

3.2 4

5X12

11.2

2.7

120

10#/8#

3.2 4

5X12

9

3.1

10#/8#

3.2 4

5X12

11.9

3.1

150

10#/8#

3.2 4

5X12

11

3.7

10#/8#

3.2 4

5X12

14.5

3.7

180

10#/8#

3.2 4

5X12

12.5

4.3

10#/8#

3.2 4

5X12

16.5

4.3

200

10#/8#

3.2 4

5X12

13.5

4.7

10#/8#

3.2 4

5X12

17.8

4.7